Starpoint Adaptive Optics
Press Release
UK Consortium announces 'ALFONSO', a DTI-funded project
for Advanced Free Space Optics
Date: 2 December 2003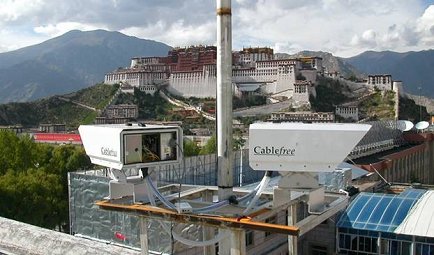 FSO installation in Lhasa, Tibet, with Potala palace behind.
Image copyright © 2003 Cablefree Solutions Ltd
A consortium of UK companies and universities are to develop a next-generation optical platform for free-space-optical (FSO) communications. The project, valued at over £720,000, dubbed 'ALFONSO', will combine advances in mid-infrared, optically pumped, vertical external-cavity surface-emitting lasers (mid-IR OP-VECSEL) at the Institute of Photonics, University of Strathclyde, Glasgow, with expertise in adaptive optics at the University of Durham. Industrial partners Cablefree Solutions Ltd, Sira, Ferranti Photonics Ltd and Starpoint Adaptive Optics Ltd provide development engineering support and route to market.
The consortium aim to develop an FSO platform providing bandwidth of up 10 Gbp/s over a range of several km. The new OP-VECSEL device will operate at 2200 nm, providing greater penetration in adverse atmospheric conditions than existing systems using 850 nm or 1550 nm. The adaptive optics will compensate for turbulence in the atmosphere that deflects and distorts the laser beam, so that a smaller, faster detector can be used than on non-adaptive systems, and consequently greater bandwidth achieved.
Stephen Patrick, Director of Cablefree Solutions Ltd, says "This unique combination of British expertise will significantly 'raise the bar' in FSO system performance and lead to a world-beating communications product".
FSO systems could provide the solution to the problem of 'last-mile' network access and the need for low-cost high-bandwidth communications where fibre optic or microwave links are impractical, costly or present health hazards. Current-generation FSO systems are limited in range and reliability by weather effects, the most severe being thick fog. In practice, this means though FSO works well at short distances, with typical link availability of 99.999% at 500m, reliability drops rapidly with distance - for example only 99.9% at 1km in the UK. 'ALFONSO' promises to deliver better performance in terms of range, link availability, and bandwidth.
ALFONSO is sponsored by the Smart Optics Faraday Partnership and is supported with a grant by the UK Government's DTI LINK OSDA (Optical Systems for the Digital Age) award scheme.
Contacts
Commercial: Stephen Patrick. e-mail stephen.patrick@cablefree.co.uk
Technical: Jon Holmes. e-mail: jon.holmes@sira.co.uk
Smart Optics Faraday Partnership: jon.holmes@sira.co.uk
LINK OSDA: Steve Gratze. e-mail: steve.gratze@osda.org.uk
OP-VECSEL: Tim Holt. e-mail: tim.holt@strath.ac.uk
Adaptive Optics: Dr. Gordon Love. e-mail: g.d.love@durham.ac.uk
Websites
www.cablefreesolutions.com/alfonso/
www.smartoptics.org
www.osda.org.uk
Technical summary of Project
ALFONSO – Adaptive Long-wave Free-Space Optical Network Solutions
The Alfonso project addresses the improvements necessary to free-space optical (FSO) communications platforms to overcome the 'last-mile' broadband connectivity gap to meet the demands of future high-performance telecommunications systems. The specific aims are to:
Develop a mid-infrared, optically pumped, vertical external-cavity surface-emitting laser (mid-IR OP-VECSEL), which will provide greater range and link up-time than existing solutions
Develop adaptive optics techniques to correct for environmental misalignment and atmospheric turbulence correction, which will also provide greater range and link up-time than existing solutions, and more importantly will provide increased link bandwidth up to 10 GHz, by reducing imaged spot size and hence detector capacitance and size.
Demonstrate these technologies in practical form, to enable their realisation in actual FSO products, individually or together as the FSO market requires.
This project is supported by the DTI through the LINK OSDA programme with a grant of £365,500.