Starpoint Adaptive Optics
Data Sheet
AmpArrayLV
Overview
| | | | | | |
| --- | --- | --- | --- | --- | --- |
| | | | The AmpArrayLV™ is a low voltage, high current, 37-channel amplifier unit capable of driving adaptive mirrors with actuator load capacitances in the 1μF – 10μF range, at the frequencies typically required to correct atmospheric turbulence. It contains no internal digital-to-analogue converters, and is intended to be driven by an external source of analogue control signals. | | |
Each amplifier channel delivers a ±20V swing about a −40V or −60V bias level, providing 2.6μm of stroke for mirrors with a 0.07μm/V actuator response. The 5mA mean drive current is sufficient to drive a 10μF actuator at atmospheric turbulence frequencies. The AmpArrayLV provides hardware voltage limiting between nearest neighbour actuators, a safety feature required by many continuous face-sheet mirrors. The quiescent power dissipation is exceptionally low.
The analogue in–analogue out interface configuration was created to allow a deformable mirror to be controlled directly from high-level data acquisition and instrument control software, without requiring additional device driver software. The AmpArrayLV would typically be driven by a PC multi-channel DAC card supported by the user's preferred high-level software. The input specification matches the output characteristics of many popular DAC cards offered with the leading instrument control software packages.
This simple yet versatile device comes in a compact enclosure and requires only a single +5V dc power supply input. It is priced at less than £40 per channel. It offers a convenient and economical way to control continuous face-sheet mirrors that have high actuator capacitance.
System Specification
System Characteristics
Number of amplifier channels
37
Amplifier Gain
−2.1± 2%
Input Characteristics
Input Voltage Range
−10V to +10V
Input Impedance
150kΩ
Output Characteristics
Output Voltage Range
−20V to +20V
Bias Voltage
−40V or −60V, manually settable.
Nearest Neighbour Voltage Limit
20.0V ≤ |ΔV| ≤ 22.1V
Output Drive Current (mean)
5mA
Signal Bandwidth
500Hz @ -3dB corner
Physical Characteristics
Quiescent Power Dissipation
35mW / channel
Enclosure Dimensions
166mm(D) × 106mm(W) × 34mm(H)
Power In
+5V dc regulated, @ 2A
Connector Pin Assignment
| | | |
| --- | --- | --- |
| | System Connectors: | |
| | Signal Input Connector: | 44-way HD22 (density-and-a-half) 'D'-type socket. |
| | Drive Output Connector: | 78-way HD22 (density-and-a-half) 'D'-type socket. |
| | Power Supply Connector: | 0.1" pin miniature power jack. (Power supply is included). |
Pin assignment on the input (44-way) and output (78-way) 'D'-type connectors, and the protection diode configuration. The diode array imposes a fixed mapping of amplifier channels onto mirror actuators. This mapping must be adhered to.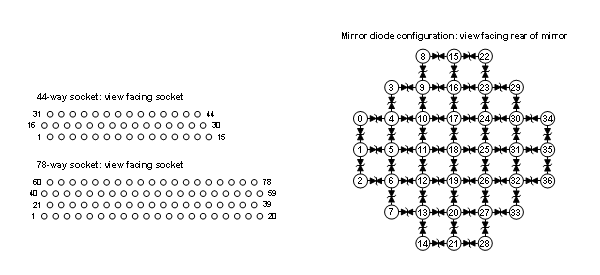 Input Connector: 44-way
Output Connector: 78-way
Pin No.
Signal
Pin No.
Signal
Pin No.
Signal
1
IN36
1
OUT0
40
OUT1
2
GND
2
OUT2
41
OUT3
3
IN31
3
OUT4
42
OUT5
4
GND
4
OUT6
43
OUT7
5
IN26
5
OUT8
44
OUT9
6
IN23
6
OUT10
45
OUT11
7
IN21
7
OUT12
46
OUT13
8
IN18
8
OUT14
47
OUT15
9
IN15
9
OUT16
48
OUT17
10
IN13
10
OUT18
49
GND
11
IN10
11
OUT19
50
OUT20
12
GND
12
OUT21
51
OUT22
13
IN5
13
OUT23
52
OUT24
14
GND
14
OUT25
53
OUT26
15
IN0
15
OUT27
54
OUT28
16
GND
16
OUT29
55
OUT30
17
IN34
17
OUT31
56
OUT32
18
IN32
18
OUT33
57
OUT34
19
IN29
19
OUT35
58
OUT36
20
IN27
20
GND
59
GND
21
IN24
21
BIAS
60
BIAS
22
GND
22
BIAS
61
BIAS
23
IN19
23
BIAS
62
BIAS
24
IN16
24
BIAS
63
BIAS
25
IN14
25
BIAS
64
BIAS
26
IN11
26
BIAS
65
BIAS
27
IN8
27
BIAS
66
BIAS
28
IN6
28
BIAS
67
BIAS
29
IN3
29
BIAS
68
BIAS
30
IN1
30
BIAS
69
GND
31
IN35
31
BIAS
70
BIAS
32
IN33
32
BIAS
71
BIAS
33
IN30
33
BIAS
72
BIAS
34
IN28
34
BIAS
73
BIAS
35
IN25
35
BIAS
74
BIAS
36
IN22
36
BIAS
75
BIAS
37
IN20
37
BIAS
76
BIAS
38
IN17
38
BIAS
77
BIAS
39
GND
39
BIAS
78
BIAS
40
IN12
41
IN9
42
IN7
43
IN4
44
IN2

© 2005 Starpoint Adaptive Optics Limited